USS PROVIDENCE SSN-719
IN THE NEWS
CITY OF PROVIDENCE, RHODE ISLAND
CITIZEN CITATION


Your Support is Appreciated
"DUE NOW---2011 ASSN. DUES"
The cost of memberships is only $20 a year. The $20 mainly covers the cost of newsletters, envelopes, stamps, reunions and this website.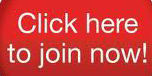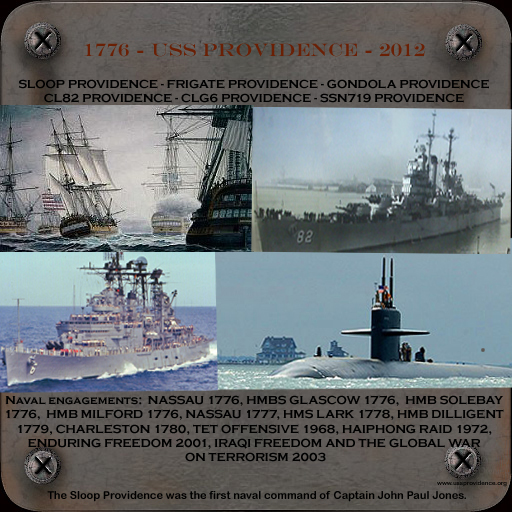 NAVY UNIT COMMENDATION TO PROVIDENCE - 25NOV66 TO 08NOV68

NAVY UNIT COMMENDATION TO PROVIDENCE - 20APR72 TO 01DEC72

POUNDING THE DO SON PENINSULA - 1972 CRUISER- DESTROYER ATTACK VIETNAM
PROVIDENCE CALL SIGN "FIGHTING DEVIL" USED IN NAVAL GUNFIRE SUPPORT
COMSEVENTHFLEET CALL SIGN - "JEHOVAH" (formerly Blackbeard)

June 9, 1972 - New York Times Magazine - "Banging Holes in the Land"
--The Vietnam war from the deck of a U.S. cruiser
....................................... an article by Donald Kirk

COMMAND HISTORY REPORT FOR 1967

COMMAND HISTORY REPORT FOR 1968

COMMAND HISTORY REPORT FOR 1972

NAVY UNIT COMMENDATION TO SSN719 (4)

USS PROVIDENCE MEMORIAL DISPLAY CASE NOW ABOARD THE USS LITTLE ROCK IN BUFFALO, NEW YORK

Donations requested for the USS PROVIDENCE SHOWCASE aboard the LITTLE ROCK and the potential USS SALEM display. Shipmates can bring their items to the upcoming reunion or mail/contact Jim Chryst. click here for contact information..thank you for your support... Providence Association



The Library of Congress - American Folklife Center
VETERAN'S HISTORY PROJECT
presents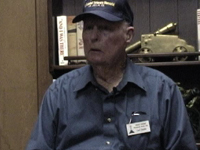 Carl Dustin
baldcoyote@webtv.net

War: World War II, 1939-46
Branch: Navy
Unit: USS Herzog and
USS Providence
Service Location: Mediterranean Sea; South Atlantic;
North America; Central America
Rank: Fire Controlman Second Class
Place of Birth: San Diego, CA
Five ships of the United States Navy have been named USS PROVIDENCE, after the city of Providence, Rhode Island.



1

The first Providence was a 12-gun ship (sloop) originally named Katy was taken into the Continental Navy in 1775. First Naval Command of John Paul Jones on May 10, 1776..

2

The second Providence was a 28-gun sailing frigate launched in 1776 and captured by the British in 1780.

3

The third Providence was a gundalow built on Lake Champlain in 1776 which fought in the Battle of Valcour Island. A gundalow is a single masted rowing gunboat. (3 cannons + 9 guns)

4

The fourth Providence was the light cruiser (CL-82) from 1945 to 1949, de-activated - Reserve Fleet - converted to a guided missile cruiser (CLG-6) - again in service from 1959 to 1973.

5

The fifth Providence (SSN-719) is a Los Angeles-class nuclear attack submarine commissioned in 1985 and on active service and patrol as of 2009.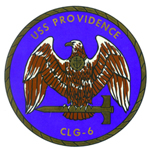 CRUISE BOOK
1970-1972

CRUISE BOOK
1966-1968

CRUISE BOOK
1962-64



CRUISE BOOK
1960-61



CRUISE BOOK
1960



This website is supported by
your membership.
Boot Camp


San Diego NTC
Military News Media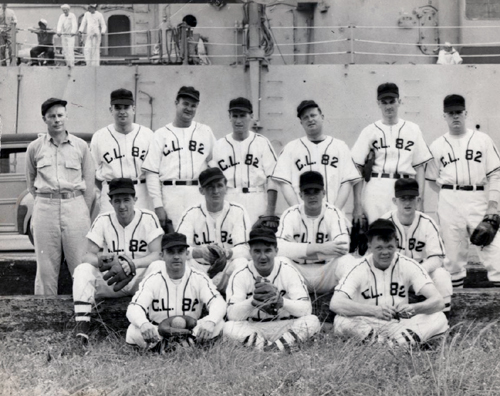 CL82 Softball Team - BM1 Marshall D. Williams .... back row third from left
Submitted by Larry Williams
Providence News Clippings From The Past

...click here
USS RONALD REAGAN RETURNS (7/06/06)...click here
MASTER & COMMANDER...click here
ENS. HAAS SHARES HIS PHOTOS ..click here
SUBIC BAY NAVAL BASE ..click here
USS PROVIDENCE "MODEL" ..click here
SPECIAL VIDEO SELECTIONS ..click here
USS PROVIDENCE DRILL TEAM..click here
SAM AND DAVY JONES IN 1968 ..click here
The Log of Cromwell Smith - Plank Owner 1945...click here
THE TIMES OF Eugene Willard Rogers S2/C...click here
Dianne Nezgoda shares "The Jolly Roger" from the times when
her dad, Eugene Nezgoda sailed on Providence....click here

"I WAS A SAILOR ONCE" click here
Providence Chief Engineer in 1959
Sketches of Providence by Arthur Beaumont .html
July 1969
All links on this page are eventually moved to the "links" page.
Disclaimer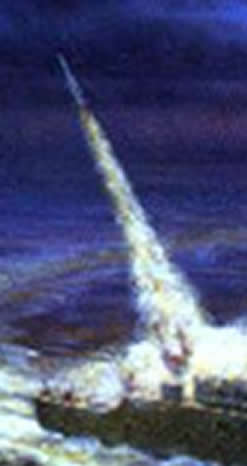 USS Providence Association ©Copyright 1999-2012
created January 21, 1999, by Sam Villa at www.Star77.com, Direct comments to email: sam@star77.com
Sam Villa (Editor) PO/BX 161182 San Diego, CA 92176
This site is best viewed at a screen resolution of 1280 by 800.

The White House

VA-LINKS

Request Copies of Military Personnel Records Online

The Virtual Wall - Vietnam Memorial

D-DAY June 06, 1944.. click here
October 13, 1775: Navy birthday
November 10, 1775: Marine Corp birthday

Combat Naval Gunfire Support File
click here