USS PROVIDENCE MEMORIAL DISPLAY CASE
NOW ABOARD THE USS LITTLE ROCK IN BUFFALO, NEW YORK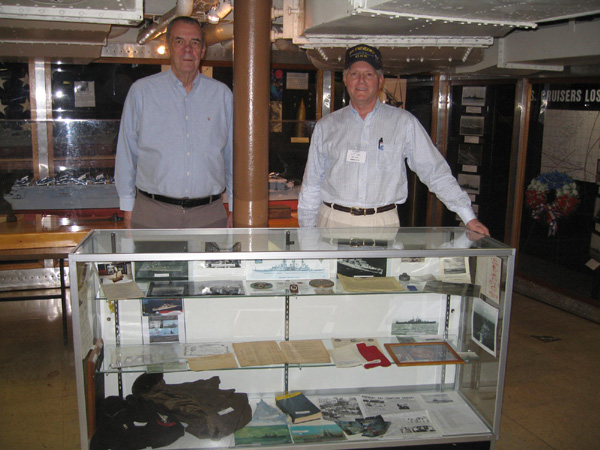 Pictured above (starting on your left) is Colonel Partick Cummingham, Director of the Naval
and Military Park in Buffalo, and Jim Chryst at the dedication service.
---------------
PROVIDENCE MEMORIAL DISPLAY
The finishing touches have been completed and the Providence Memorial Display has been officially dedicated "To all Sailors and Marines who served on the USS PROVIDENCE.

The display can be viewed in the Cruiser Memorial Room on board the USS LITTLE ROCK (CLG-4), at the Buffalo and Erie County Naval and Military Park, Buffalo, New York.

Numerous items were donated from the ship's crew, and include:

1959 Recommissioning program

Pictures of the building of PROVIDENCE CL-82; launching; commissioning; Navy Day in Providence, Rhode Island; CL-82 photos in the MED; "Nip and Tuck"; CLG-6 photos underway, and in combat during Vietnam.

1968 "Homeward Bound" pennant

FTG dress blue, uniform jumper

Officer's leather jacket

Blue Jacket Manual

Teak deck from PROVIDENCE

Plank owner awards

Ship's History

1946 and 1968 POD's

CLG-6 plaque


Many thanks to the following shipmates who donated items or funds for this Memorial:

Harry Bennert, Dick Rector (CL-82), Jim Cozine, Jack Reighley, Paul Dillon, Frank Talerico (CL-82), Lloyd Ellis, Jr., Dwight Troutman, Fred Hocking, Vic Troutman, Bill McCubbin, Andrew Unger, Frank Messina, Sam Villa, Robert Messing, John Wegener, Vic Muzio, Bill Wulff, Ron Pagliaro, Phil Yeutter, John Purnell USMC, Richard Zweber

If you wish to donate an item to this permanent display, please forward item to me at:

Jim Chryst, 34 Snyder Hollow Rd, New Providence, Pa.17560

We need items from the MARDET, Marines.
Fair winds,
Jim Chryst
(more photos coming)