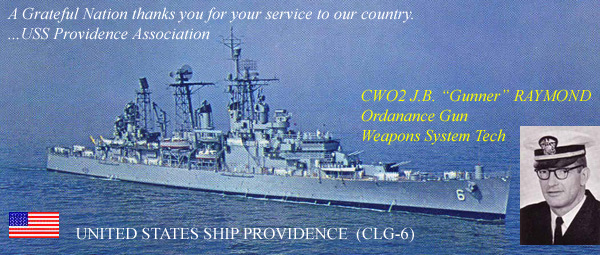 From: NJRGoPitt@aol.com
Date: Mon, 5 Nov 2007 11:32:06 -0500
Subject: Jim Raymond's death announcement

I found all your email addresses on Jim's address book. I don't know if any of you were notified or saw the obituary, so sending the information. Jim passed away October 15, 2007. He was buried at Riverside National Cemetery with full military honors. I am enclosing the email address to the obituary. Jim's medical problems began in February, in the hospital three times, then a nursing home for physical therapy and finally home with hospice for two weeks. Jim and I were together for 48 years. I enjoyed being in Scotland with Jim while he was on the Hunley, Japan on the Providence and Italy on the Little Rock. I have fond memories, but miss him terribly. I am sorry I haven't been able to notify you sooner. Please feel free to email me if you wish.
Sincerely, Nancy Raymond
------------
Nancy Raymond and family,
Our heartfelt condolences to you and your family.
Jim is now listed in the Providence Memorial. He is in the company of good men who served our country during peace and war. Our Providence Dedication is a tribute to men like him…. it reads:
"This web site is dedicated to all the families, friends and the crew members present and past who served aboard the ships named Providence. It is a tribute to the devotion to duty and tireless efforts of those who served aboard her in peace and war. May we never forget the spirit of Providence and those who stand vigilant and strong, always ready to protect and defend our country."

Fair winds to you James "Gunner" Raymond, until we meet again.
Sam Villa, Webmaster
On behalf of the USS Providence Association
return to Memorial