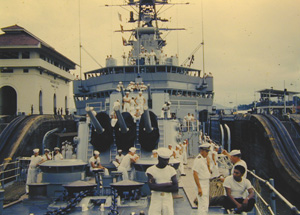 Providence goes through the Panama Canal
Richard Haas photo - Click on Photo to Enlarge
Click here to see another great photo. This is a nice closeup of the Missile House.
Michael J. McGeeney (thanks Mike)
Click here for PROVIDENCE AT THE ROSE FESTIVAL IN JUNE 1966 (Portland, Oregon)

Click here Providence approaching USS Boston CAG-1 off the coast of Vietnam - August 15, 1968
Michael J. McGeeney (thanks Mike)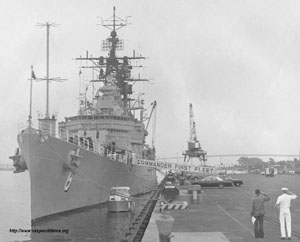 Providence tied up at Pier Juliet at Naval Air
Station San Diego. Those were the days when
there was a Commander First Fleet.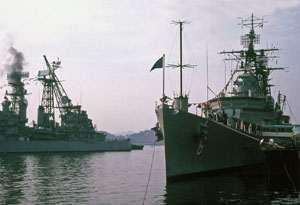 Galveston and Prov...1963 Westpac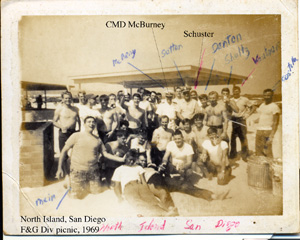 Robert Schuster shares his photo of picnic at
North Island, San Diego in 1969.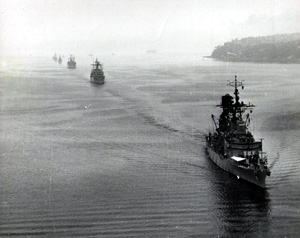 Providence entering Yokosuka, Japan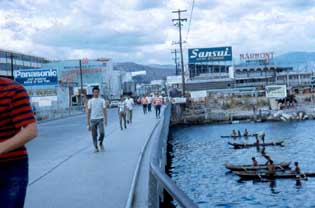 Subic Bay
--------------------
The yearly membership fee helps support the Providence Association.
The $25.00 membership fee is due in January of each year. New members can join anytime.
Click here for Membership Form

We thank you for your support.
Make your check out to:
"Providence Association"
c/o David Abdouch
127 Amberwood Drive
Walnut, CA 91789
(909) 594-9273
d.abdouch@verizon.net
-------------
ON BEING A MEMBER
OF THE USS PROVIDENCE ASSOCIATION
1. Your dues help support a forum for shipmates to find each other and make new friends.
2. Your dues help to support the costs of putting together our Providence Reunions.
3. You are part of the continuing legacy when your support the Providence Association. You help perpetuate the name of Providence that first sailed in 1776 with Commanding Officer John Paul Jones to today with the Los Angeles Class nuclear submarine USS Providence SSN 719.
4. Your dues directly help to keep the Providence Website alive and well.

a. Historical website used by students and historians for reference information.

b. Living website of many that have served our country aboard Providence.

c. The website has helped to reunite and bring together hundreds of shipmates that have served between 1945 to 1973.

d. A place to show your family and relatives about Providence through the online cruise books, shipmate photos, archival data and images and personal seastories from the men that sailed aboard Providence.

e. The Providence Website acts as Dynamic Newsletter online that updates current information frequently and does not have the limits of the mail. Check site often.

f. Shipmates have the opportunity to share and contribute their photos, stories and experiences.

g. Online Memorial to honor those who served our nation aboard Providence.

5. The presence of the Providence Website on the World Wide Web of the Internet stands as a landmark and announcement to the world that we still have patriots who will give their lives to serve, support and defend our the precious liberty and freedom.

Our presence gives notice that we are proud to be Americans and we are proud to have served aboard the United States Ship Providence.
We appreciate your help and support and thank you for your service to our country.
God Bless America and Godspeed to our military.
Sam Villa
Webmaster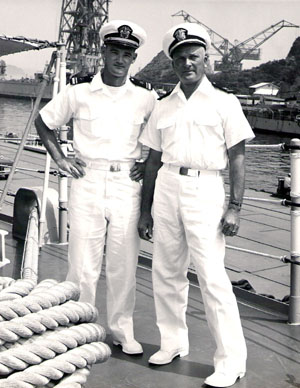 Al Roeder and Bos'n Craft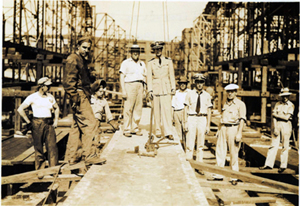 Keel Laying USS Providence CL82
July 27, 1943
--------------------
2017
"DUE NOW---2017 ASSN. DUES"

| | | | | | | | |
| --- | --- | --- | --- | --- | --- | --- | --- |
| Name | Hull # | Years | Division | Rank | Donation | Plank | Dues paid |
| | | | | | | Owner | thru date |
| Abdouch, David | CLG-6 | 66-68 | 1ST | BM-3 | YES | | 2018 |
| Altree, John W | CLG-6 | 67-70 | X | YN-3 | YES | | 2017 |
| Ammend, Richard | CLG-6 | 66-68 | 1ST | SN | YES | | 2017 |
| Arion, Ellsworth E. | CLG-6 | 66-69 | | CWO-2 | | | 2016 |
| Armstrong, John D | CLG-6 | 61-62 | FLAG | CTR-1 | YES | | 2017 |
| Armstrong, John W | CLG-6 | 69 | B | BT1/BTC | | | 2017 |
| Armstrong, Ray L | CL-82 | 46-47 | A | MM-3 | YES | | 2018 |
| Arnold, David | CLG-6 | 67-68 | 1st | SN | YES | | 2023 |
| Baden, Joseph | CLG-6 | 71-72 | M | LTJG | YES | | 2018 |
| Bailey, Richard | CLG-6 | 68-71 | OI | RD-3 | | | 2018 |
| Barbookles, James | CLG-6 | | | | YES | | 2020 |
| Barnett, Robert | CLG-6 | | B | MM-2 | YES | | 2017 |
| Barnicle, Daniel | CL-82 | 46-48 | MARDET | | YES | | 2018 |
| Barrett, Steve | CLG-6 | 71-72 | H | HM-2 | | | 2016 |
| Batchelder, Richard | CLG-6 | 66-69 | G | LTJG | | | 2016 |
| Bechtold, Robert | CLG-6 | 65-68 | B | BT-2 | | | 2019 |
| Becker, Robert | CLG-6 | | | SN | YES | | 2014 |
| Beidelman, Ray | CLG-6 | 66-68 | | YNSN | YES | | 2022 |
| Belcher, Dennis | CLG-6 | | X | PN-2 | | YES | 2014 |
| Belvin, Houston | CLG-6 | 65-68 | R | FN | YES | | 2016 |
| Bennert, Harry | CLG-6 | 67-69 | H | LCDR | YES | | 2018 |
| Berger, Robert | CLG-6 | 60-62 | OR | RM-2 | | | 2016 |
| Blackson, Marc | CLG-6 | 70-73 | OI | RD-3 | YES | | 2018 |
| Boyce, Harvey W. | CLG-6 | 70 | FLAG | LT | YES | | 2017 |
| Boyd, Henry Allen | CLG-6 | 59-62 | SUPPLY | DK-3 | YES | YES | 2019 |
| Bozeman, George | CLG-6 | 62-65 | E | EM-2 | YES | | 2018 |
| Bredderman, Rudolf | CLG-6 | 59-61 | 2nd | | LT | YES | 2018 |
| Brent, Gerald | CLG-6 | 69-72 | N | LCDR | | | 2016 |
| Brinza, Anthony | CLG-6 | | | | | | 2017 |
| Brown, Larry | CLG-6 | 59 | B | BT-3 | YES | YES | 2015 |
| Brown, Walter | CLG-6 | 66-70 | R | SFM-2 | | | 2017 |
| Bruckman, Thomas | CLG-6 | 70-72 | | RM-3 | YES | | 2016 |
| Bunn, John | CLG-6 | 70-73 | OE | | YES | | 2016 |
| Burge, Jr., David | CLG-6 | 68-69 | SUPPLY | LTJG | YES | | 2020 |
| Name | Hull # | Years | Division | Rank | Donation | Plank | Dues paid |
| | | | | | | Owner | thru date |
| Butler, John J. | CLG-6 | 59-63 | 1ST/OE | ETR-3 | YES | YES | 2018 |
| Canfield, Al | CLG-6 | 68-69 | X | CWO-4 | | | 2017 |
| Cappa, Ron | CLG-6 | 68-73 | B | BT-2 | YES | | 2018 |
| Carnegie, Colin | CLG-6 | 59-62 | 6TH | GS-3 | YES | | 2017 |
| Cester, Donald R. | CLG-6 | 66-69 | N | QM-3 | | | |
| Chacon, William | CLG-6 | 68-69 | | BM-3 | | | 2015 |
| Chambers, Ken | CLG-6 | 70-73 | A | FN | | | 2019 |
| Chase, Alan B | CLG-6 | 68 | E | ENSN | YES | | 2018 |
| Cheek, Arthur | CL-82 | 47-49 | MARDET | | YES | | 2017 |
| Cheever, Gary | CLG-6 | 70-73 | 1st & X | SN | | | 2018 |
| Chryst, Jim | CLG-6 | 66-69 | 2nd & X | YN-2 | YES | | 2025 |
| Clark, Keith | CLG-6 | | OI | RD-3 | | | 2016 |
| Clark, Paul | CLG-6 | 70-72 | OI | RD-2 | | | 2017 |
| Coleman, Sr. , Milton | CLG-6 | | FLAG | | | | 2013 |
| Collier, Bob | CLG-6 | 71-71 | SUPPLY | SK-3 | | | 2017 |
| Connelly, Allan | CLG-6 | | OL | BM-3 | YES | | 2017 |
| Cook, Michael | CLG-6 | 65-66 | | FTCS | | | 2013 |
| Cook, Ronald | CLG-6 | 61-63 | OI | RDSN | | | 2017 |
| Cosgrove, (Hank) | CLG-6 | 63-64 | S-3 | SHB-3 | | | 2017 |
| Cotter,Paul | CLG-6 | 66-68 | 1st & FM | LTJG | YES | | 2016 |
| Cox, William | CLG-6 | | A | LTJG | YES | | 2017 |
| Cozine, Jim | CLG-6 | 61-63 | N/1st/3rd | LTJG | YES | | 2025 |
| Craig, Steven | CLG-6 | 67-69 | | | YES | | 2017 |
| Crater, Donald | CLG-6 | | | | | | 2017 |
| Crawford,Gerald | CLG-6 | 66-70 | E | IC-2 | | | 2018 |
| Crossman, Richard | CLG-6 | 68-69 | CS | SM-2 | | | 2016 |
| Culley, (Randy) | CLG-6 | 69-71 | OPS | LTJG | | | 2017 |
| Davis, Dan | CLG-6 | | MARDET | | | | 2017 |
| Dee, Joseph | CL-82 | 46-48 | 3rd | SN 1/c | | | 2017 |
| De Nure, Bill | CLG-6 | 66-69 | X | YN-2 | YES | | 2018 |
| Diemand,Kim | CLG-6 | 72-73 | MARDET | LCPL | YES | | 2020 |
| Dillon, Paul | CLG-6 | | FLAG/CR | | YES | | 2015 |
| Dorman, Dale | CLG-6 | 65-70 | | RM-3 | YES | | 2017 |
| Doxtator,Carl | CLG-6 | 66-70 | R | DC-2 | | | 2021 |
| Duncan, Freddie | CLG-6 | | | FN | | | 2014 |
| Dutcher, David | CLG-6 | 68-71 | ENG | LT | | | 2016 |
| Edwards,Robert | CLG-6 | 62-64 | OC | RM-3 | YES | | 2014 |
| Eggersdorfer, Tim | CLG-6 | | | | | | 2016 |
| Ellis,Lloyd | CL-82 | 45-46 | G | S/2C | YES | YES | 2016 |
| Erdner, Tom | CLG-6 | 70-72 | OI | RD-2 | YES | | 2016 |
| Franclemont, David | CLG-6 | 67-70 | 3rd | BMSN | | | 2017 |
| Franklin, G. Wayne | CLG-6 | | | RM-3 | | | 2017 |
| George, Joseph H | CLG-6 | | 3rd | | | | 2018 |
| Gibbs, George | CLG-6 | 62-64 | N | | | | 2015 |
| Giesse, Philip | CLG-6 | | E | EMCS | YES | | 2018 |
| Name | Hull # | Years | Division | Rank | Donation | Plank | Dues paid |
| | | | | | | Owner | thru date |
| Goodworth, Ronald | CLG-6 | 1968 | FLAG | CYN3 | | | 2017 |
| Grayton, Abraham | CLG-6 | 59-62 | B | BT-3 | | YES | 2019 |
| Greathouse,John | CLG-6 | | | | | | 2017 |
| Greenwalt, Bill | CLG-6 | 66-68 | X | YN-3 | | | 2017 |
| Grieser, Robert | CLG-6 | 67-70 | R | DC-2 | YES | | 2017 |
| Grindle, Robert | CLG-6 | 66-68 | FLAG | MU-3 | | | 2017 |
| Haas, Richard | CLG-6 | 59 | 6th & X | LT | | | 2016 |
| Hall, Frederick | CL-82 | 48-49 | | | | | 2015 |
| Hall,Louis | CLG-6 | 69-71 | A | FN | | | 2014 |
| Hambleton, Duane | CLG-6 | 59-60 | E | IC-2 | | YES | 2017 |
| Hargraves,Bruce | CLG-6 | 61-65 | 1st & 3rd | BM-3 | | | 2019 |
| Hayes, Sam | CLG-6 | 66-68 | | | YES | | 2017 |
| Hays, Phil | CLG-6 | 1966-69 | | | | | 2017 |
| Hayter, Edwin | CLG-6 | 69-70 | X | YN-3 | | | 2016 |
| Hennessy, James | CLG-6 | 61-63 | S-2 | CS-3 | | | 2017 |
| Hicks, Laurence M. | CLG-6 | 65-68 | 2nd | BM-3 | | | 2017 |
| Hocking, Fred | CLG-6 | 61-62 | F | FTM-2 | YES | | 2017 |
| Hoffert, Thomas | CLG-6 | 68-70 | OL | BM-3 | | | 2016 |
| Hollyfield, Amy | CLG-6 | Associate | | | YES | | 2017 |
| | | | | | | | |
| Hulette, Paul | CLG-6 | | | LT | YES | | 2015 |
| Hulyo, Ted | CLG-6 | 59 | N | QM-2 | YES | YES | 2017 |
| Hunt, Robert | CLG-6 | | | | YES | | 2016 |
| Jaeger, George | CLG-6 | 63-65 | MARDET | PFC | | | 2017 |
| Johnson, Creighton | CLG-6 | 65-67 | S-1 | LCDR | YES | | 2020 |
| Johnson, Dave | CLG-6 | 66-68 | | EM-2 | | | 2016 |
| Johnson, Delbert D. | CLG-6 | | | | | | 2018 |
| Johnson, John J | CLG-6 | | | OI | | | 2015 |
| Kennard, John | CLG-6 | 71-73 | DENTAL | LT | | | 2016 |
| Kiss, J.T.(Ted) | CLG-6 | 62-65 | B | LTJG | YES | | 2013 |
| Kitchens, Kyle | CLG-6 | 67-68 | | IC-2 | | | 2016 |
| Koelmel, James | CLG-6 | 68-70 | X - PAO | LTJG | | | 2017 |
| Kurtz, Larrry | CLG-6 | 68-71 | FM | FTM-1 | | | 2018 |
| Lauritzen, Jack | CLG-6 | 60-64 | 3rd | BM-3 | | | 2014 |
| Lee, Pat | CLG-6 | 66-69 | ENG | YNSN | | | 2015 |
| Lewkz, Mark | CLG-6 | | | | | | 2016 |
| LoBue, Sam | CLG-6 | 1965-67 | FTG-2 | | | | 2017 |
| Long, James | CL-82 | 45-46 | | | Yes | YES | 2020 |
| Louviere, Chris | CLG-6 | 67-69 | 1st | SN | | | 2014 |
| Lowe, James T(Niski) | CLG-6 | 68-70 | WEPS | LT | | | 2017 |
| Lung, Charles(Bud) | CLG-6 | 66-67 | OE | | | | 2020 |
| Luszcz, Joseph | CLG-6 | 66-68 | X | YN-2/YNC | | | 2018 |
| Lyne, Christopher | CLG-6 | 68-69 | | | | | 2016 |
| Lyon, Herb | CL-82 | 46 | 1st | S/2C | YES | | 2018 |
| Lyon, Ken | CL82 | 45-46 | | | | YES | 2016 |
| Macbride, John | CLG-6 | 61-64 | X | LI-3 | | | 2017 |
| MacLeod, Sam | | | | | | | 2018 |
| Macfeeley, William | CLG-6 | 70-72 | R | HT-3 | YES | | 2019 |
| Mahaffey, Charles | CLG-6 | 66-69 | FLAG/CR | CYN-3 | YES | | 2017 |
| | | | | | | | |
| Name | HULL # | Years | Division | Rank | Donation | Plank | Dues paid |
| | | | | | | Owner | thru date |
| Mahar, Thomas | CL-82 | 46-48 | | | | | 2018 |
| Mangiapane, Russ | CLG-6 | 66-69 | E | EM-2 | YES | | 2018 |
| Manning, Leslie | CLG-6 | | S-3 | SHL-3 | YES | | 2017 |
| Mapes, Barry | CLG-6 | | 3rd | BM-3 | | | 2018 |
| Markiewicz, Joseph | CLG-6 | 66-69 | CR | RM-3 | | | 2016 |
| Markowski, Joseph | CL-82 | 46 | F | | | | 2018 |
| Martell, James | CLG-6 | 65-67 | F | FMM-3 | | | 2017 |
| Mason, Clyde G. | CLG-6 | | FLAG/CR | RM-2 | | | 2015 |
| McAleer, David | CLG-6 | 70-72 | OI | RD-2 | | | 2016 |
| McBryde, Walter G. Jr. | CLG-6 | 65-69 | | FTG-2 | | | 2017 |
| McCubbin, Bill | CLG-6 | 59-64 | 1st/2nd/3rd | BM-3 | YES | YES | 2025 |
| McGough, Patrick | CL-82 | 48-49 | CR | RM-3 | | | 2017 |
| McMillian, Deane | CLG-6 | 61-63 | OR | SN | YES | | 2014 |
| McNally, Patrick | CLG-6 | | | FN | | | 2018 |
| McVeigh, Michael | CLG-6 | 66-68 | OI | JG/CAPT | YES | | 2017 |
| McWethy, Robert | CLG-6 | 69-71 | CO | CAPT | YES | | 2017 |
| Meier, Lou | CLG-6 | | 3rd & FTG | LTJG | YES | | 2018 |
| Miller, Kenneth | CLG-6 | 59-61 | X | PN-2 | | | 2016 |
| Montgomery, Todd | CLG-6 | | ENG | LTJG | | | 2018 |
| Moore, James L. | CLG-6 | 60-64 | OE | ETR2 | YES | | 2017 |
| Murat, Joseph C | CL-82 | 46-47 | MARDET | CPL | YES | | 2017 |
| Muzio, Victor | CLG-6 | 61-64 | A | MR-1 | YES | | 2018 |
| Myers, Bill | CLG-6 | 62-65 | 6th | LTJG | YES | | 2017 |
| Nordgren, Don | CLG-6 | | | | | | 2016 |
| Oblasney, Frank | CL-82 | 48-49 | X | YN-3 | YES | | 2018 |
| Oliver, Earl | CLG-6 | 66-68 | OE | CDR | YES | | 2020 |
| O'Malley, Patrick | CLG-6 | 68-70 | E | IC-2 | | | 2017 |
| Osredkar,(Tony) | CLG-6 | Associate | USMC | | | | 2017 |
| Osredkar, Florian | CLG-6 | 66-70 | FM | FTM-3 | YES | | 2017 |
| Pagliaro, Kenneth | CLG-6 | 66-69 | FM | YN-3 | YES | | 2016 |
| Pagliaro, Ronald | CLG-6 | 66-70 | A | MM-3 | YES | | 2018 |
| Penny, Robert | CLG-6 | 70-73 | E | | YES | | 2019 |
| Perno, Francis A. | CLG-6 | 64-66 | B | BT-3 | | | 2019 |
| Pettit, John T. | CLG-6 | 66-69 | MARDET | L/CPL | YES | | 2017 |
| Pierce, James | CLG-6 | | OI | RD-3 | YES | | 2017 |
| Pilger,Allan | CLG-6 | 65-69 | | | | | 2016 |
| Prai, Charles | CLG-6 | 59-63 | S-2 | DK-3 | | YES | 2016 |
| Prinsen, Edwin | CLG-6 | 68-73 | FM | FTM-3 | | | 2017 |
| Pryor, Roger | CLG-6 | | R | LTJG | | | 2020 |
| Quarry, John | CL-82 | 45-46 | F | | YES | YES | 2017 |
| Rea, Roland | CLG-6 | 73 | 2nd | SN | | | 2017 |
| Rigg, Larry | CLG-6 | | FLAG | LTJG | | | 2017 |
| Robinson, Ramon | CL-82 | 45-46 | MARDET | L/CPL | YES | YES | 2018 |
| Roeder, Richard | CLG-6 | 59-62 | | LTJG | | YES | 2016 |
| Rogers, Eugene | CL-82 | 46-48 | | | YES | | 2015 |
| Rudder, Lawrence | CL-82 | 45-46 | | SM-3 | | YES | 2015 |
| Sanders, Vernon R | CL-82 | 45-46 | 1st | SN 1/c | | YES | 2016 |
| Sarno, George | CLG-6 | 66-69 | X | LI-3 | YES | | 2017 |
| Saylor, Robert | CLG-6 | 59-60 | 6th | GMT-3 | YES | YES | 2018 |
| Name | Hull # | Years | Division | Rank | Donation | Plank | Dues paid |
| | | | | | | Owner | thru date |
| Schetrompf, Blair | CL-82 | 49 | | | | | 2015 |
| Schmidt, Allen | CLG-6 | 66-67 | E | SN | | | 2019 |
| Schreier,Edward | CLG-6 | 68-69 | | ET-3 | | | 2018 |
| Serra, H. Lawrence | CLG-6 | 67-68 | N & 2nd | LTJG | YES | | 2019 |
| Shanks, John | CLG-6 | | | | YES | YES | 2016 |
| Smith, Cromwell | CL-82 | 45-46 | | RD-3 | YES | YES | 2018 |
| Smock, Larry | CLG-6 | 66-70 | OI | RD-2 | YES | | 2015 |
| Snodgrass, Redgie | CLG-6 | 62-64 | FLAG/CR | RM-2 | | | 2016 |
| Sobotka, Pat | CLG-6 | 64-66 | 2nd & M | FN | | | 2015 |
| Spencer, Charles | CLG-6 | 64-65 | OI | ET2 | | | 2018 |
| Steenburg, Charles | CLG-6 | 60-61 | 4th & F | MT-3 | YES | | 2017 |
| Stephens,Robert | CLG-6 | 65-67 | X | JO-3 | | | 2017 |
| Stubits, Joseph | CL-82 | | M | | YES | | 2019 |
| Sullivan, Charles | CLG-6 | 59-61 | MARDET | CPL | YES | | 2017 |
| Sutton, Robert | CLG-6 | | | | | | 2018 |
| Sutton, Ronald | CLG-6 | 67-69 | N | QM-3 | | | 2017 |
| Tamarra, Randy | CLG-6 | 62-64 | MARDET | CPL | | | 2016 |
| Taylor, Terry | CLG-6 | 66-69 | OI | RD-3 | | | 2017 |
| Taylor, Bruce | CLG-6 | 66-69 | ENG | LCDR | YES | | 2017 |
| Thompson,,A. Keith | CLG-6 | 61-62 | MARDET | 2nd LT | | | 2017 |
| Tlumach, Hilary M. | CLG-6 | 59 | OL | YN-2 | | | 2021 |
| Trolinger, John S | CLG-6 | 64-66 | OI | CWO-3 | | | 2016 |
| Trosper,Harold | CLG-6 | 67-69 | H | HM-2 | | | 2018 |
| Troutman, Dwight | CLG-6 | 66-69 | ENG | YN-3 | | | 2020 |
| Troutman, Victor | CLG-6 | 62-64 | CR | | YES | | 2019 |
| Trujillo, George | CLG-6 | 69-70 | B | | | | 2017 |
| Uribe,Albert | CLG-6 | 65-68 | M | | | | 2016 |
| Utterback, Kent | CLG-6 | 71-72 | CS | SM-3 | | | 2018 |
| Valade, Larry | CLG-6 | 59-61 | F | LT | YES | | 2016 |
| Varela, John | CLG-6 | 63-65 | OR | RM-2 | | | 2015 |
| Vautour, Arthur | CLG-6 | 66-69 | FM | FTG-2 | YES | | 2020 |
| Villa, Sam | CLG-6 | 68-72 | FM | FTM-3 | YES | | 2025 |
| Viruet, Tom | CLG-6 | 66-69 | 1st | BM-3 | | | 2018 |
| Voelker, Rodney | CLG-6 | | | | | | 2017 |
| Walters, John | | | | | | | 2018 |
| Ward,David F | CLG-6 | 68-71 | 1st/3rd | LTJG | | | 2016 |
| Waterman, Robbie | CLG-6 | | | | | | 2017 |
| Wegener, John | CLG-6 | 65-68 | A | MR-2 | YES | | 2019 |
| Weichold, Clarence | CLG-6 | 59-66 | 1 st | BM-1 | YES | YES | 2018 |
| Wein, Robert | CLG-6 | | | | | | 2017 |
| Weightman, Fawn | CL-82 | | 2ND | | YES | | 2017 |
| West, Tom | CLG-6 | | A & B | | | YES | 2016 |
| Wilkeson, Wayne A. | CLG-6 | 1960-62 | OE | ETR2 | | | 2018 |
| Williams, J. R. | CLG-6 | | 3rd & X | SN | YES | | 2016 |
| Williamson, James C. | CLG-6 | 59-61 | MARDET | | | YES | 2017 |
| Winters, Ronnie | CLG-6 | 66-70 | T | | | | 2016 |
| Witherspoon, Rex | CL-82 | 46-47 | H | LTJG-DC | YES | | 2018 |
| Woody, Gene | CLG-6 | 62-64 | CR | RMSN | | | 2017 |
| Wright, Kenneth | CLG-6 | 63-68 | E | EM-1 | YES | | 2018 |
| Wulff, Gilbert | CLG-6 | 70-72 | M | MMFN | YES | | 2017 |
| Wulff, William | CLG-6 | 65-69 | OI | YN-3 | YES | | 2017 |
| Yeatts, Gary | CLG-6 | 62-64 | | | | | 2016 |
| Yeutter, Philip | CLG-6 | 71-73 | ENG | LCDR/CAPT | YES | | 2015 |
| Yohanan, Robert | CLG-6 | 62-64 | 1st & R | LTJG | YES | | 2017 |
| Zapotoczny, Stanley | CL-82 | 45-47 | B | WT-2 | YES | YES | 2017 |
| Ziegler, Philip | CLG-6 | 66-68 | F | LTJG | YES | | 2017 |
| Zweber, Richard | CLG-6 | 66-69 | OI | YN-2 | YES | | 2017 |
Please contact me for any corrections to
this list.....sam@star77.com
Click here for Membership Form
**Special Donation to Providence Association
Thanks again for your support....s.v.
last update October 5, 2017
Click here to return to homeport